Ever run your fingers through your hair and feel those dreaded, rough split ends? How many times have you sighed in disappointment upon seeing them?
We understand the frustration split ends can bring, and we're here to help you find practical solutions to prevent and treat them.
We know how important it is for you to have healthy and gorgeous hair. We have put this comprehensive guide to help you combat split ends and achieve the hair of your dreams.
Let's dive in and explore "7 Effective Tips to Prevent and Treat Split Ends" so that you can say goodbye to those pesky split ends for good.
Let's dive in and uncover these hair-saving strategies!
Top 7 Proven Methods to Tackle Split Ends Head-On
You're about to discover some golden nuggets of hair care. These tips aren't just superficial fixes—they're tried and true methods to genuinely elevate the health of your hair. Here's why they matter:
1.Regular Trimming
By doing so, you're preventing the split from traveling up the shaft. This tip can help remove those split ends, preventing them from traveling further up the hair shaft and causing more damage.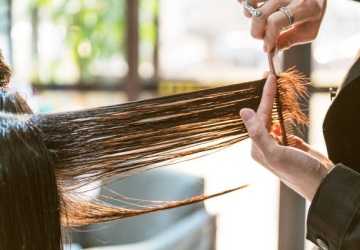 ·Benefits: Maintains healthy hair length and avoids further damage.
·To maximize: Schedule this tip every 6-8 weeks. Take your time!
·Consideration: Ensure your stylist uses sharp scissors. Dull blades can cause more splits.
Key aspects:
·Trims are not equivalent to haircuts. Even a slight snip can make a difference.
·Choose a stylist who understands your hair type and needs.
It's the first step in prevention and a way to maintain hair health.
2. Gentle Brushing Technique
Avoid tearing through your hair. Instead, gently detangle it. When brushing, start at the ends and move up to reduce hair strain.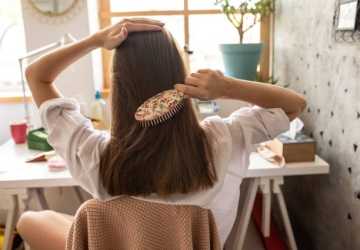 ·Benefits: Reduces breakage and mechanical damage.
·To maximize: Start at the end and work your way up.
·Consideration: Opt for brushes with natural bristles or wide-toothed combs.
Key aspects:
·Don't brush wet hair; it's more prone to breakage.
·Consider detangling sprays for added ease.
Proper brushing preserves the hair's integrity.
3. Heat Protection is a Must
If you're styling with heat, you need to protect your hair. Environmental factors can also contribute to split ends. UV rays and pollutants can make hair prone to splitting.
·Benefits: Shields hair from high temperatures that cause damage.
·To maximize: Use a heat protectant spray before styling.
·Consideration: Limit the use of heat tools.
Key aspects:
·Always ensure your hair is dry before styling.
·Lower the temperature of your tools.
Heat, especially from styling tools like hair dryers, straighteners, and curling irons, makes it weak, brittle, and more susceptible to breakage.
4. Moisturize and Nourish
Like our skin, our hair craves moisture. For an extra boost of nourishment, consider using a deep conditioning treatment once a week. Your hair will feel soft, smooth, and less prone to split ends.
·Benefits: Softens and strengthens the hair shaft.
·To maximize: Use deep conditioning treatments regularly.
·Consideration: Find products suited to your hair type.
Key aspects:
·Hair masks are a boon.
·Natural oils like coconut or argan oil can be beneficial.
Hydrated hair is less prone to splitting.
5. Avoid Chemical Overload
Frequent coloring or chemical treatments can weaken hair.
·Benefits: Preserve hair's natural strength.
·To maximize: Limit chemical processes.
·Consideration: Always follow up with a deep conditioner post-treatment.
Key aspects:
·Opt for ammonia-free hair dyes.
·Consider natural hair treatments when possible.
Chemicals can strip hair of its natural protective layers.
6. Healthy Diet, Healthy Hair
Your hair reflects your overall health. Nutrient-rich foods like fruits, vegetables, and lean proteins boost hair health and combat split ends.
·Benefits: Stronger, shinier, and healthier hair.
·To maximize: Incorporate protein, omega-3, and vitamins into your diet.
·Consideration: Stay hydrated! Hydration is vital for keeping hair elastic and moisturized.
Key aspects:
·Eggs, nuts, and fish are hair health boosters.
·Vitamins E and A promote hair health.
Nutrition is suitable and adequate for hair health.
7. Protect from Environmental Damage
Sun and pollution can damage hair. Wear a hat or scarf in prolonged sunlight and use UV-protective hair products.
·Benefits: It makes your hair more attractive and shiny.
·To maximize: Wear hats and use leave-in conditioners.
·Consideration: Avoid chlorine in pools by wearing a cap.
Key aspects:
·UV protectants for hair are available.
·Rinse hair after a swim in the sea or pool.
External factors contribute to hair damage, which is often overlooked.
Conclusion
No more nightmares about split ends. With these strategies in hand, you're preventing and treating split ends and promoting overall hair health.
Remember, it's not just about the tips of your hair but the journey from root to end. So, are you ready to elevate your hair game?
Embrace these tips, and watch your hair flourish. Now, flaunt that gorgeous mane!