Is Fashion Your Passion?
You're someone who lives and breathes fashion, aren't you? You admire celebrities and their iconic styles, don't you? And each time a celebrity steps out in a daring ensemble, it ignites a spark of excitement within you.
We all find ourselves awestruck by these memorable moments. But what happens when these instances do more than just turning heads? What if they break the internet?
As a fellow fashion enthusiast, you understand the influence these celebrities have on shaping our fashion sense, sometimes turning the fashion world upside down with a single outfit!
This blog post will dive deep into the "6 Iconic Celebrity Fashion Moments that Broke the Internet," moments that left the world gaping in awe, reshaping the norms of style.
Let's embark on this exciting journey together and relive the experiences that continue to inspire the world of fashion.
6 Internet-Breaking Celebrity Fashion Moments
The fashion world is always evolving, and it's celebrities who often set the trend. Get ready to reminisce and be inspired by the following iconic fashion moments that took over the internet.
This journey is not just about appreciating style but also understanding how it shapes our culture and individual identities.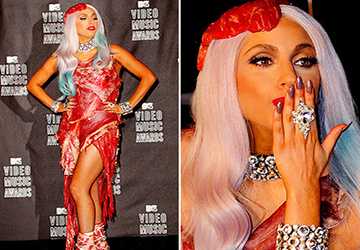 1.
Rihanna's Met Gala Dress, 2015
When you think of Rihanna, you can't help but associate her with fearless fashion choices. Her stunning, jaw-dropping ensemble for the 2015 Met Gala was a true testament to her style.
Cloaked in a majestic, yellow Guo Pei gown, Rihanna redefined what it means to make a statement.
This fashion moment is an inspiration to all fashion enthusiasts because it demonstrates the power of daring to be different.
Key aspects of this outfit included:
● The vibrant yellow color that symbolizes power and freedom.
● The incredible craftsmanship of the designer, featuring elaborate embroidery.
● The fur-trimmed cape that was both opulent and dramatic.
Rihanna's Met Gala look reminds us that fashion is an art and an expression of our unique personalities.
2.
Lady Gaga's Meat Dress, 2010
Lady Gaga's bold style choices have always been a topic of conversation. But her outfit at the 2010 MTV Video Music Awards left everyone stunned.
Donned in a dress made entirely of raw meat, Gaga took fashion experimentation to a whole new level.
This controversial fashion moment invites us to explore the boundaries of fashion. It underlines that fashion can be a medium to convey strong messages and spark debates.
Key aspects of this moment included:
● The shock factor, which led to global conversations.
● The symbolism behind the choice, which Gaga explained as a statement against "don't ask, don't tell" military policies.
● The realization that fashion can push boundaries and make political statements.
With this, Gaga encouraged us all to consider the larger implications of our fashion choices.
3.
Kim Kardashian's Wet Dress, Met Gala 2019
When it comes to fashion, Kim Kardashian is known for her unique and daring style. The internet nearly broke when she appeared at the 2019 Met Gala in a jaw-dropping "wet dress" by Thierry Mugler.
This dress perfectly highlighted her figure, and the effect of water droplets added an element of intrigue and sensuality.
Key aspects of this moment included:
● The optical illusion of a wet dress was revolutionary in the fashion industry.
● Kim's daringness to embrace such an avant-garde design demonstrated her fashion-forward thinking.
● The dress served as a testament to the creative potential in fashion.
This iconic moment encourages us to embrace creativity and strive for originality in our fashion choices.
4.
Billy Porter's Tuxedo Gown, Oscars 2019
Billy Porter's 2019 Oscars red carpet look turned heads and made headlines. His stunning tuxedo gown by Christian Siriano was a glorious blend of masculine and feminine fashion.
Porter's outfit challenged traditional gender norms in fashion and started a conversation about inclusivity.
Key aspects of this moment included:
● The blending of typically masculine and feminine fashion elements.
● The bold statement about rejecting traditional gender norms.
● The encouraging message of embracing individuality in fashion.
This groundbreaking fashion moment emphasizes the importance of inclusivity and self-expression in fashion.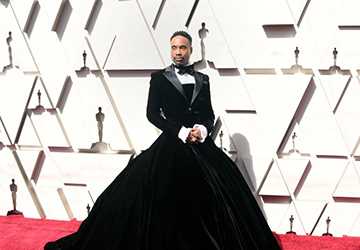 5.
Zendaya's Cinderella Dress, Met Gala 2019
The 2019 Met Gala was an event of iconic fashion moments, with Zendaya's transformation into Cinderella being one of them.
Her Tommy Hilfiger dress, which lit up in blue, was a sight to behold. It was not just a dress; it was a live fairytale.
Key aspects of this moment included:
● The blend of technology with fashion was a unique sight.
● Zendaya's look told a story, making it more than just a fashion statement.
● The nostalgic connection to a beloved fairytale character connected with audiences worldwide.
This moment serves as an example of how fashion can tell stories and evoke emotions.
6.
J.Lo's Versace Dress, Grammy Awards 2000
No list of iconic fashion moments is complete without Jennifer Lopez's Versace jungle print dress at the Grammy Awards in 2000.
This dress was so impactful that it led to the creation of Google Images. The plunging green dress set a new precedent for bold, sensual fashion on the red carpet.
Key aspects of this moment included:
● The daring design broke traditional red-carpet norms.
● The global demand to see J.Lo's dress led to a technological innovation - Google Images.
● The dress's popularity redefined sensual fashion in the mainstream.
J.Lo's Versace dress moment emphasizes the influence that fashion can have beyond the industry, impacting technology and broader pop culture.
Conclusion: A Celebration of Fashion Innovation
These seven iconic celebrity fashion moments that broke the internet have left an indelible mark on the world of fashion.
They illustrate how fashion can serve as a powerful tool for self-expression, pushing boundaries, and sparking global conversations.
Remember, in the realm of fashion, you are the artist and your outfit, the masterpiece. So, are you ready to create your next fashion statement?