Do you find yourself staring at your favorite statement scarf, wondering how to style it differently for every season? Are you unsure how to match it with your outfits and still keep it exciting?
These are common struggles we face while trying to incorporate our favorite accessories into our everyday outfits.
But worry not, you are not alone in this. We all need a little guidance and inspiration to spice up our style game now and then.
Understanding this struggle, this blog post is designed specifically for you. Our solution will provide you with 8 versatile ways to style your statement scarf across all seasons.
So let's dive in and discover how your statement scarf can become the ultimate style weapon all year round!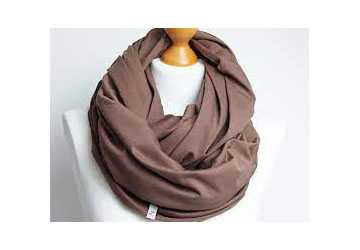 8 Vibrant Styles for Your Statement Scarf
Before we get into the meat of the topic, let's first appreciate the power a statement scarf holds. It can add a pop of color, transform a plain outfit into something extraordinary, and most importantly, keep you warm and stylish across all seasons.
With these 8 styling tips, your favorite scarf will be your most versatile fashion companion.
1.
Breezy Spring Wrap
Spring is the time for rebirth and freshness. A loosely draped scarf around your shoulders can bring out this essence beautifully.
It not only adds an element of chic to your outfit but also provides a subtle warmth for the unpredictable spring weather.
To get the most out of this style, try pairing it with a light dress or a simple top and jeans. Be mindful of the color palette; stick to pastel or bright colors that echo the spirit of spring.
2.
Summer Neck Bandana
Who said scarves are only for winters? In the hot summers, transform your scarf into a neck bandana.
It not only gives you a stylish edge but also protects your neck from the harsh sun. To master this style, fold your scarf into a triangle and tie it around your neck.
You can pair this with almost any outfit, from a summer dress to a casual tee and shorts.
Don't forget to consider the fabric - stick to lightweight materials like cotton or silk for comfort.
3.
Autumn Infinity Loop
Autumn brings along a hint of chill, making it perfect to bring out your scarves. An infinity loop scarf style works incredibly well for this season.
The continuity of this style complements the seamless transition of colors in autumn. Pair it with a cozy sweater and jeans to get the maximum effect.
Always remember, autumn is all about warm, earthy tones so pick your scarf color accordingly.
4.
Chic Winter French Knot
Winters demand style and warmth, both of which can be achieved with a chic French knot. This style not only ensures you stay warm but also adds a touch of elegance to your winter ensemble.
To achieve this look, fold the scarf in half, put it around your neck, and pull both ends through the loop created by the fold.
Pair it with a classic winter coat and you're ready to make heads turn. Choose scarves made of wool or cashmere for the best comfort and warmth.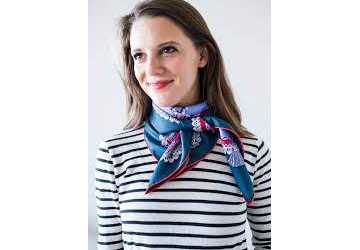 5.
Boho-inspired Beach Wrap
Summer beach parties or pool parties call for a breezy, boho look. A large, light-weight scarf can be the perfect addition to your swimsuit.
Just wrap it around your waist like a sarong for a stylish cover-up. This style gives you a trendy, beach-ready look and also provides some coverage when needed.
Choose vibrant or tropical prints to keep in line with the beach theme.
6.
Trendy Fall Shoulder Duster
Fall's transitional weather is ideal for experimenting with scarf styles. Using your scarf as a shoulder duster can add an interesting layer to your outfit.
Simply drape it over your shoulders, allowing it to hang evenly on both sides. This works great with both casual and formal outfits.
Choosing scarves with autumnal patterns or colors can help you blend with the season's aesthetics.
7.
Sophisticated Office Head Wrap
In a professional setting, your scarf can be used to make a sophisticated style statement.
Tie it around your head as a headband or wrap it entirely for a chic turban look. This way, your scarf not only adds a dash of elegance but also keeps your hair neat and tidy.
It's best to choose scarves in solid colors or subtle patterns to maintain a professional appearance.
8.
Cozy Winter Shawl
Winter is the perfect season to wear your scarf as a shawl. It gives you an extra layer of warmth and makes for a versatile accessory.
Simply wrap it around your shoulders and let it drape freely for a cozy yet stylish look. Pair it with your favorite winter dress or top.
Go for scarves in heavier materials like wool or fleece and in darker shades for a true winter vibe.
Elevate Your Style with a Statement Scarf
Now that you have discovered these 8 fabulous ways to style your statement scarf, every season can be a fashion fiesta.
Don't restrict yourself to these styles alone. Let your creativity flow and come up with variations of your own.
Remember, the best fashion statement is the one that reflects your personality and style. Now go ahead and transform your style game with your statement scarf!