We've all been there – you spend precious time perfecting your makeup, only to watch it fade away as the day goes by. But fear not! The secret to keeping your makeup on point from morning till night is a trusty setting spray. These magic potions work wonders in locking in your makeup and ensuring it stays fresh and fabulous.
In this article, we're going to dive into the top 8 setting sprays that will help you keep your makeup looking flawless without all the fancy jargon. Whether you're new to the setting spray game or a seasoned pro, there's something here for everyone.

1.
Urban Decay All Nighter Long-Lasting Makeup Setting Spray
Urban Decay's All Nighter Setting Spray is a cult favorite. This stuff is like a force field for your makeup. A few spritzes and your makeup won't budge, even in the most sweltering heat or during an all-night dance party.
Moreover, it contains no parabens, ensuring that you can have confidence in the skincare products you use. With its fine mist and weightless feel, it's a go-to choice for makeup artists and beauty enthusiasts alike.
2.
NYX Professional Makeup Matte Finish Setting Spray
If you have oily skin, NYX Matte Finish Setting Spray can be your trusted companion. It not only maintains your makeup's longevity but also manages excess shine all day long. Say goodbye to that unwanted midday grease! Its matte finish is perfect for a natural, shine-free look that lasts. Affordable and effective, it's a must-have for anyone dealing with oiliness.
3.
Morphe Continuous Setting Mist
Morphe's Continuous Setting Mist is a game-changer for those who prefer a fine, even mist. It seems like a cool mist of setting spray that secures your makeup in place without any heaviness or stickiness.
Perfect for that dewy, natural look that's all the rage. It's also infused with vitamin E to nourish your skin, making it a go-to choice for those seeking both makeup longevity and skincare benefits.
4.
e.l.f. Cosmetics Makeup Mist & Set
If you're on a budget but still want your makeup to last, e.l.f. Cosmetics has got you covered. Their Makeup Mist & Set spray is not only affordable but also surprisingly effective. It's a great option for everyday wear when you don't want to break the bank. This cruelty-free option provides a fine mist that helps your makeup stay put without any sticky residue, making it an excellent choice for those seeking a wallet-friendly option.
5.
Tatcha Luminous Dewy Skin Mist
Looking for that radiant, red-carpet-worthy glow? Tatcha's Luminous Dewy Skin Mist is the answer. It not only sets your makeup but also adds a luminous finish to your look.
You'll be glowing like a movie star! With a blend of botanical oils and humectants, it's like a skincare treatment and makeup setter in one. This luxurious option is perfect for special occasions when you want to look and feel your best.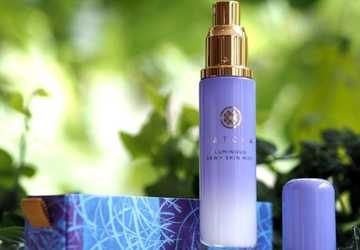 6.
MAC Prep + Prime Fix+ Setting Spray
MAC's Prep + Prime Fix+ is like a multivitamin for your skin. It not only locks in your makeup but also hydrates and refreshes your complexion. This is a must-have for those long days when your skin needs a little pick-me-up.
The formula contains green tea, chamomile, and cucumber extracts to soothe and revitalize your skin, making it a versatile product that can be used before, during, or after makeup application.
7.
Milani Make It Last Setting Spray
Milani's Make It Last Setting Spray is a fantastic find at the drugstore. It's well-known for its capacity to keep makeup looking fresh for as long as 16 hours, which covers an entire day and more!
Moreover, it's suitable for all skin types, ensuring everyone can reap its advantages. Its lightweight, non-sticky formula is ideal for those seeking long-lasting makeup without any unpleasant feelings.
8.
Too Faced Hangover 3-in-1 Replenishing Primer & Setting Spray.
Too Faced knows how to party, and their Hangover 3-in-1 spray is the life of the makeup party. Not only does it set your makeup, but it also works as a primer and helps replenish your skin's moisture. Perfect for those mornings when you've had too much fun the night before. Packed with ingredients like coconut water, probiotics, and skin-loving electrolytes, it's like a refreshing drink for your face that keeps your makeup in place and your skin feeling hydrated all day long.
Tips and Tricks for Using Setting Sprays Like a Pro
Now that you know about some fantastic setting sprays to choose from, let's dive into some tips and tricks to ensure you get the most out of these magical makeup extenders.
Apply in Layers: If you want your makeup to truly go the distance, consider applying your setting spray in layers. After each layer of makeup (primer, foundation, concealer, blush, etc.), give it a quick spritz of setting spray. This layering technique helps lock in each step, ensuring your makeup lasts longer.
Use It for Eyeshadow: Setting spray isn't just for your face! For intense and long-lasting eyeshadow, dampen your brush with setting spray before picking up the eyeshadow. This intensifies the color and helps it adhere better to your lids.
Refresh Throughout the Day: Setting sprays isn't a one-time deal. If you notice your makeup starting to fade or feel a bit dry, carry a travel-sized setting spray in your bag for touch-ups throughout the day. A quick spritz can revive your makeup and boost your skin's hydration.
With these handy hints, you can maximize the effectiveness of your setting spray and ensure your makeup stays flawless throughout the day.
Conclusion
Setting sprays are like the fairy godmothers of the makeup world. They wave their magic wands (or, in this case, spritz their magic mist) and make sure your makeup stays put all day long. So go ahead and give one (or more) of these top 8 setting sprays a try. Say goodbye to makeup meltdowns and hello to all-day flawlessness! Your makeup game will never be the same.